Diesel Engine ECU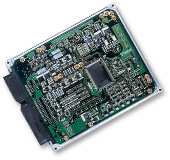 Precision, integrative control functions keep diesel engine emissions clean.
Our diesel engine ECU (ECM) builds on all the unique advantages of a diesel engine, like high fuel efficiency and low CO2 emissions. Designed to ensure compliance with increasingly strict emission control regulations, it is one of the most important diesel engine electronic control systems.
It provides precision, integrative control over the common rail fuel injection system, emission gas recirculation (EGR) system, and emission gas treatment system to keep diesel engine emissions clean.
Features
High-performance in a small package

Our high-performance ECM with built-in drive circuit for fuel injector control, DC motor drive circuit for EGR valve and air intake throttle, and controller area network (CAN) employs high-density packaging technology for an extremely compact design.

Chassis mounted design

Thanks to its enhanced heat- and vibration-resistant as well as fully waterproof design, the ECM has been mounted to the chassis so you can get the most out of a vehicle's interior space.

Lead-free

Lead-free solder designed especially for automotive applications are used where possible to minimize environmental impact.

Built-in high-performance 32-bit microcomputer

A built-in high-performance 32-bit RISC chip maximizes the performance of the microcomputer and the specially designed I/O module to deliver optimal integrated diesel engine controls, including emissions treatment.
Description
Fitted with a built-in high-performance 32-bit RISC chip, the ECM enables precise control over a common rail fuel injection system designed to inject fuel at ultra-high pressure. The ECM controls the timing and amount of fuel injected at a speed of 1000th of a second for optimal combustion.
The ECM delivers precision control over the EGR system, including the EGR valve and air intake throttle as well to reduce NOx and particulate matter (PM) emissions. Control over exhaust gas treatment systems like the diesel particulate filter, designed to burn off accumulated particulate, enable filter regeneration and maintain the system's ability to remove PM from exhaust gas.
It uses CAN to communicate with other Transtron automotive control units and data logger to send data to vehicle telematics for enhanced driving performance.