Digital Array Microphone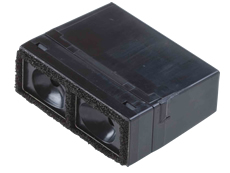 Transtron has developed a compact digital array microphone for
in-vehicle applications. It applies our unique array microphone technology to efficiently pass the driver's speech and cancel noise.
System structure
The digital array microphone has two operating modes: recognition mode and phone mode. Recognition mode is designed to improve speech recognition accuracy. It demonstrates excellent performance especially in environments that have high levels of noise, such as from the road, from the air conditioner, and from passengers' voices. Phone mode is optimized for hands-free phone use and provides a directional microphone that has high resistance to wind.