Gear Position Sensor for Motorcycles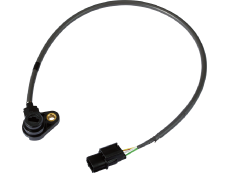 Senses transmission movement for optimal gear position display and engine control
The gear position sensor measures the rotation angle of the shift drum installed on the transmission of the motorcycle and converts it to voltage to display the gear position on the indicator on the dash. It helps to optimize convenient and fuel-efficient riding. Accurate measurement of gear position enables fine control of the engine for each gear, improves fuel efficiency, and supports compliance with emission control regulations.
Features
Converts rotation angles up to 350 degrees into linear voltage
Makes installation convenient thanks to compact size and light weight
Achieves long life by using noncontact detection
Demonstrates improved waterproofing, dustproofing, and vibration-proofing