DTS-D1D (Model with a Video Event Data Recorder)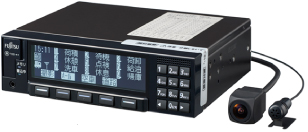 Video transmission and image recognition technology dramatically enhances safety and reliability

The DTS-D1D can record from up to five 920,000-pixel digital cameras.
The ability to save videos in the cloud gives the video event data recorder new utility.
Introductory video
Advantages

Structural schematic
All fleet operation data is uploaded to the Fujitsu cloud center.
The customer does not need to make local backups and can check and use data whenever it is needed.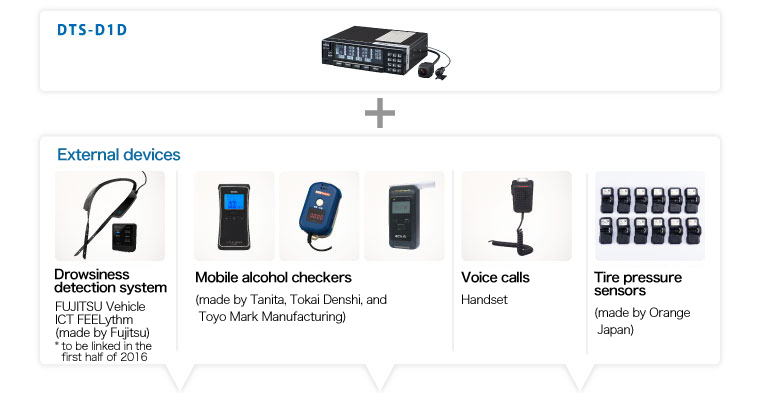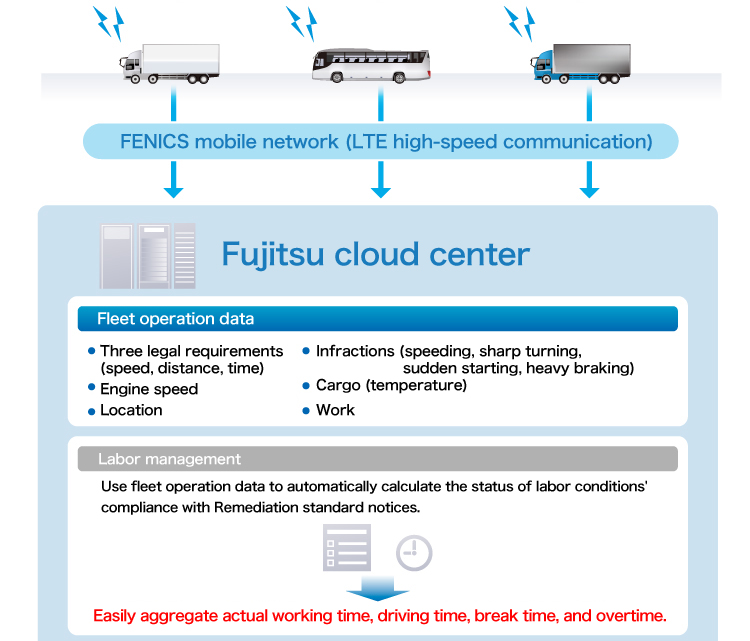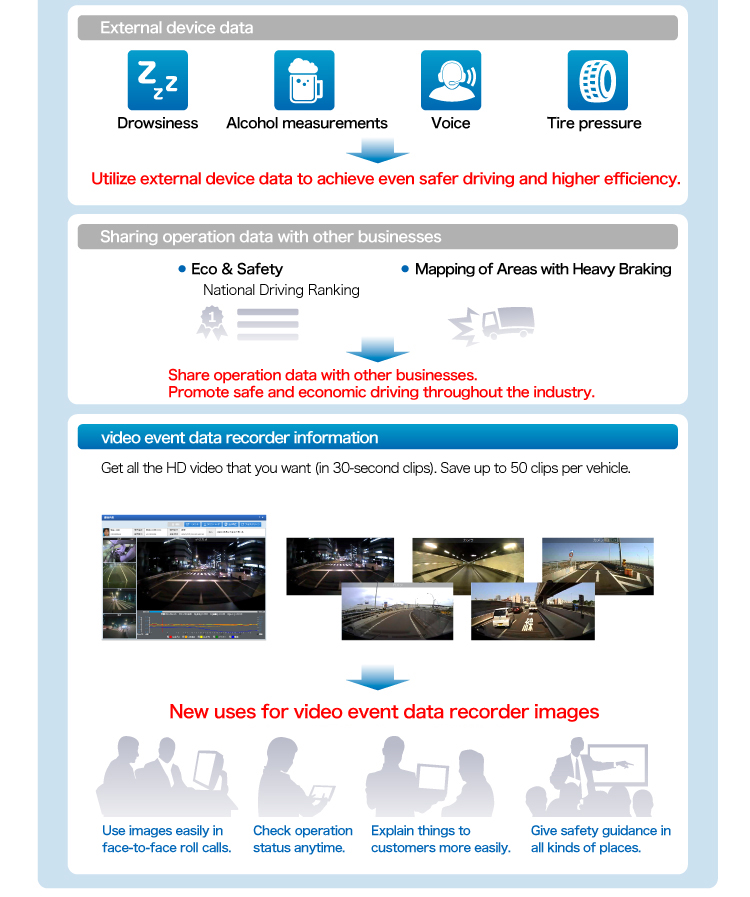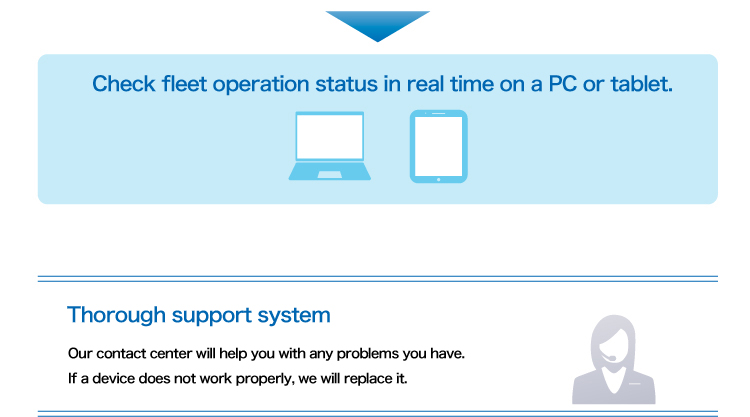 In-Vehicle station features
ITP-WebService V2 features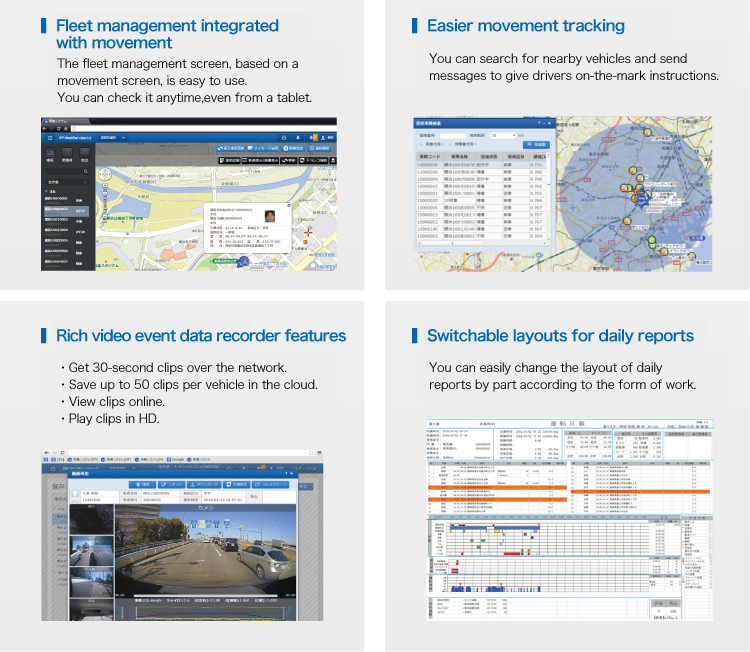 Optional features to enhance driving safety even further
Voice Call Option
Voice calls can be added easily to improve communication between the office and driver.

National Driving Ranking Option
Analysis according to a nationwide standard (the E&S Index) produces a driving ranking. This raises drivers' motivation and helps to improve driving company-wide.

Optional cameras
Digital camera
Analog camera
Infrared camera
Dome camera
Appearance
Image sensor
1/2.7-inch CMOS
920,000 pixels
1/4-inch CMOS
310,000 pixels
1/4-inch CMOS
310,000 pixels
1/3.6-inch CMOS
310,000 pixels
Angle of view
Horizontal 125°, vertical 70.2°
Horizontal 135°, vertical 105°
Horizontal 135°, vertical 105°
Horizontal 135°, vertical 108°
Waterproofing
ー
IP56 equivalent (camera main unit only)
ー
ー
Operating environment
Temperature:
-30 °C to +70 °C
Temperature:
-20 °C to +70 °C
Temperature:
-20 °C to +70 °C
Temperature:
-30 °C to +70 °C
Storage environment
Temperature:
-40 °C to +90 °C
Temperature:
-30 °C to +80 °C
Temperature:
-30 °C to +80 °C
Temperature:
-40 °C to +85 °C
Dimensions and weight
22.0 mm (W) × 22.0 mm (H) × 34.2 mm (D), approx. 50 g
(excluding cable and bracket)
24 mm (W) × 24 mm (H) × 24.8 mm (D), approx. 30 g
(excluding cable and bracket)
24 mm (W) × 24 mm (H) × 24.8 mm (D), approx. 30 g
(excluding cable and bracket)
Diameter 96.8 mm × H 63.5 mm, 245 g
(excluding cable and bracket)
 
Operating environment
Specifications
Web browser
PC
(base terminal)
OS:Windows 7, Windows 8.1
CPU: Core 2 Duo 2 GHz equivalent or faster
Memory: 3 GB or more
Monitor: 1280 × 1024 or higher resolution, 32-bit true color or better
Google Chrome 39
Tablet
(client terminal)
OS: Android 4.4 or later
CPU: Quad-core 1.2 GHz equivalent or faster
Memory: 1 GB or more
Resolution: 1280 × 800 or higher recommended
Google Chrome recommended
 
※Base terminal:A device used for automatic daily report printout, high-level synchronization, and alcohol checker synchronization
※Client terminal:A device used only for browser purposes and not for base terminal functions