Technology
Transtron technology is working to make vehicles safer,more comfortable and greener than ever.
RESEARCH AND DEVELOPMENT
[On the Cutting Edge of ECU Development]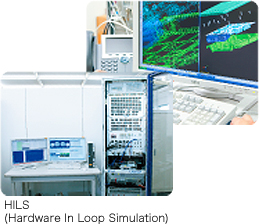 We develop ECUs for transmission, brake, engine, and other vehicle controls.
The dawn of the application-specific integrated circuit (ASIC) and the hybrid integrated circuit (HIC) has enabled us to employ high-density circuits for more compact and lighter weight ECUs than ever.
Our truck chassis ECU is not only heat and vibration resistant but also made fully waterproof to withstand the most adverse environmental conditions.
Our ECUs are optimally designed to maximize the performance of microcomputers in the 8-bit to 32-bit specification range.
Fitted with a 32-bit RISC processor, the diesel engine ECU delivers the high-speed, precision control needed for the common rail system.
We develop firmware for optimal module structure and enable control based on next-generation models.
[Opening New Horizons for In-Vehicle Information Systems]
Our In-Vehicle Information Systems leverage cloud computing technology to provide real-time fleet management and fleet monitoring.
Our technology for big data analysis, processing and linkage with various external devices (such as mobile alcohol detectors) helps your operation stay safe and save energy.
HIGH RELIABILITY
[Focus on Maximum Reliability]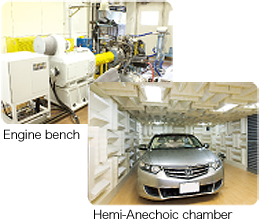 Product development begins on a firm foundation of international standards and models like ISO 9001, TS 16949, and CMMI®v 1.2 Maturity Level 3 and ends with rock-solid solutions you can depend on.
State-of-the-art analytical and measuring instruments used to conduct environmental assessments of all our hardware ensure maximum reliability.
Firmware development employs automated evaluation of sources and modules to ensure that all problems are eliminated at the development phase.
We use a real car simulator to assess everything we make for a double-check that makes sure there isn't a single flaw in any product that goes out our door.
ENVIRONMENT
[Focus on environmental preservation]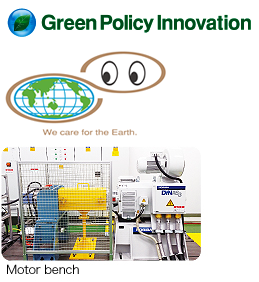 Protecting the environment is job No. 1at Transtron. We employ ISO 14001 environmental management systems when developing and engineering all our products to ensure a healthy planet for future generations.
Our diesel engine ECU's precision control functions keep engine emissions clean.
Our transmission ECU provides optimal control to maximize a vehicle's fuel efficiency.
Built with an eye to environmental preservation, all of our ECUs meet today's strict requirements for environmentally hazardous substances (RoHS, ELV, REACH, etc.).
Our technology promotes electric operation of commercial vehicles to help achieve superior environmental performance and fuel efficiency.